Educational Resources and Opportunities
The Promise of a More Perfect Union: Reconstruction and the Gilded Age

About the Georgia History Festival 2022-2023 Focus of Study
The Georgia History Festival is the signature K-12 educational program of the Georgia Historical Society, reaching hundreds of thousands of students statewide. Beginning with the new school year in September, a variety of public programs, exhibits, events, and educational resources bring history to life for students of all ages and encourage Georgians to explore the richness and diversity of our state's past. In addition to new online and in-person programming, the Festival includes popular annual events like the Colonial Faire and Muster living-history program held at Wormsloe State Historic Site, Savannah's Georgia Day Parade, and the elegant Trustees Gala.
Each year, GHS selects a person or topic significant in Georgia's history as the focus of our educational programs and resources. The 2022-2023 focus of study will be, "The Promise of a More Perfect Union: Reconstruction and the Gilded Age."
From online and in-person programs and events for the public, to new classroom resources and training opportunities for teachers, GHS will explore the history and legacy of this fascinating era that challenged America to live up to its creed that promised freedom, liberty, equality, and justice for all. This focus of study will support students' understanding of the economic, political, and social changes that Georgians faced in the tumultuous period of the half century following the Civil War.
K-12 Education Webinar Series

During the 2022 - 2023 Georgia History Festival, GHS education staff will host a series of informational and training webinars online via Zoom. All webinars are free to attend but require registration.
Newspapers in Education: Made in Georgia

Each year, GHS creates digital publications for the Georgia History Festival that explore figures, topics, and themes from Georgia's history. These resources are aligned to the Georgia Standards of Excellence and made available to students and educators through the GHF website.
In keeping with the 2023 GHF theme, "The Promise of a More Perfect Union: Reconstruction and the Gilded Age," this year's digital publication explores the topic "Made in Georgia," illustrating how perseverance and progress during a time of great change in Georgia helped generate products, industries, and entrepreneurs during Reconstruction and the late 19th century and how they continue to impact us today.
This complimentary set of primary and secondary sources for the Made in Georgia digital resource includes hands-on activities utilizing critical thinking skills to analyzing photographs, political cartoons, and documents from and about the Reconstruction Era and the Gilded Age.
Historical Investigation: How can laws shape rights of citizenship?

The Fourteenth Amendment to the Constitution was passed in 1868 during the Reconstruction era establishing the rights of citizenship for all Americans born or naturalized in the country regardless of race.
This historical inquiry aligned to the Georgia Standards of Excellence for eighth grade Georgia Studies, is based on the Inquiry Design Model (IDM) from C3 Teachers and the Library of Congress.
The primary source-based activities included challenge students to investigate the impacts of the Fourteenth Amendment, laws regarding civil rights, and the effects of Jim Crow on rights of citizenship in Georgia and the United States.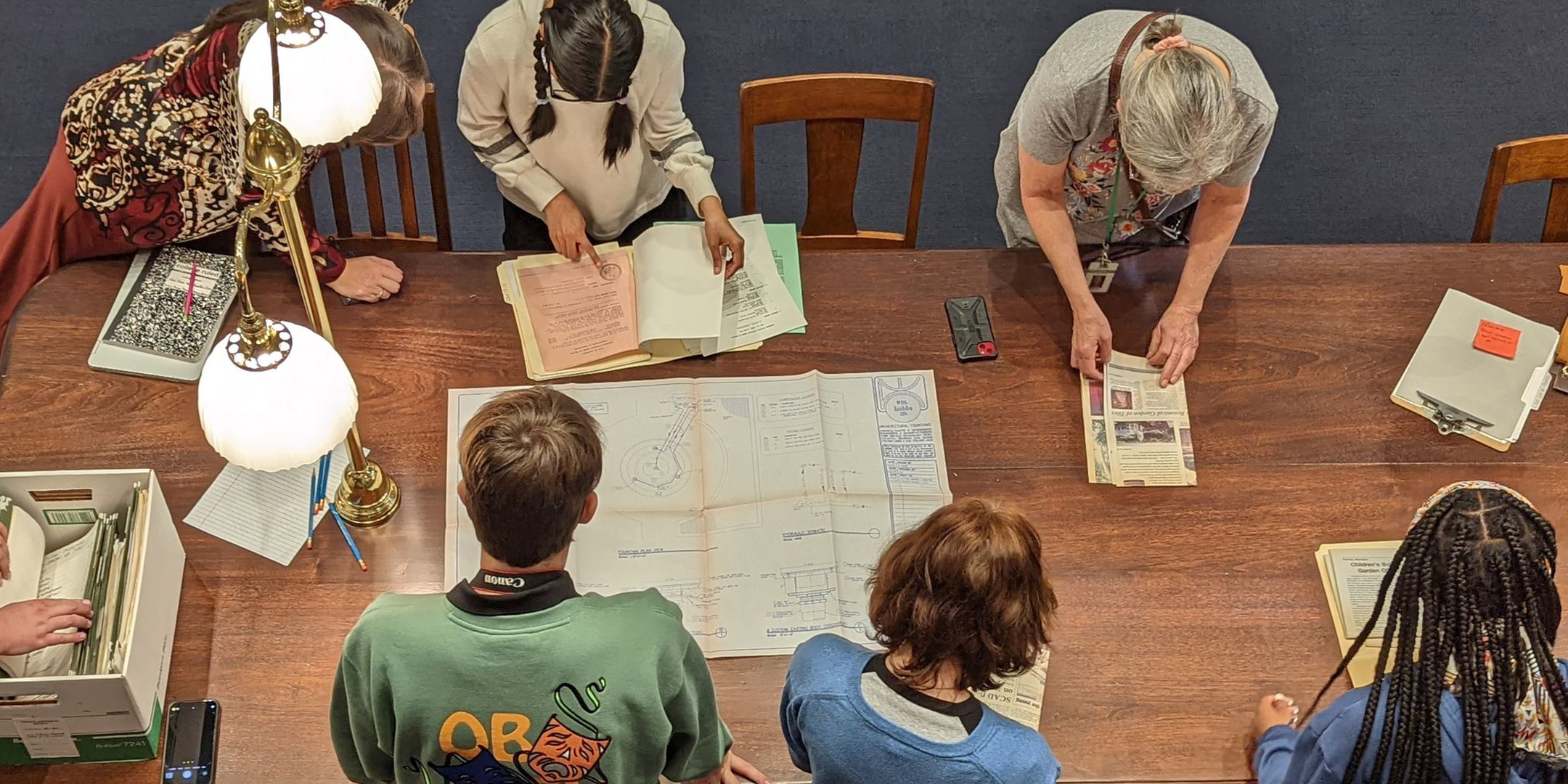 Field Trips to the GHS Research Center
During the 2023 Georgia History Festival, GHS is excited to offer field trips to the newly renovated GHS Research Center! Surrounded by the beauty of historic Hodgson Hall in Savannah, students explore primary source material from the GHS archival collection and learn about archives, research, and history.
Research Center field trips are open to students in grades 5-12 and are ideal for groups of up to 30 people. All groups should provide one chaperone per 10 students, although more may be necessary depending on individual program requirements. All program requirements will be shared and agreed upon before final arrangements are made. Typical field trips last 1.5-2 hours.
A limited number of research-based field trip opportunities will be available on a case-by-case basis upon request between October 2022 and March 2023. To learn more please call 912-651-2125 Ext. 152 or visit georgiahistory.com/field-trips.

Georgia Day Parade

February 10, 2023 | Savannah, Georgia
As part of the annual commemoration of the founding of the Georgia colony by James Edward Oglethorpe, a tradition dating back to the earliest years of the colony's founding, we invite you to join us as students, musicians, local dignitaries, and costumed historical figures march through Savannah's historic squares during this beloved annual event.
Georgia Day Statewide Student Art Contest

October 17, 2022 - January 23, 2023

Students of all grade levels can compete by creating original artwork on this year's Georgia Day theme. Winning projects will be featured online and through GHS social media.
Georgia Day Classroom Banner Competition
December 2, 2022 - February 1, 2023

Elementary and middle schools are invited to participate in Classroom Banner Competition. Students design banners based on the this year's theme and march behind their banners during the parade.
Lisa Landers
Education Coordinator
Hello. Are you a parent or teacher with questions about participation in the Georgia History Festival? Please contact me at llanders@georgiahistory.com or 912.651.2125, ext. 152.
I look forward to assisting you.