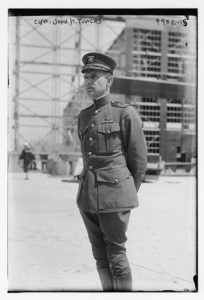 Although a historical marker commemorates his birthplace in Rome, Georgia, Rome was only the beginning of Admiral John Henry Towers' (1885-1995) journey. By the end of his life, Towers was an Admiral of the U.S. naval air force who held several pioneering records and received prestigious awards for years of courageous leadership. This Profile in Leadership highlights the impact of Admiral Towers' achievements.
In 1906, John Towers graduated from the U.S. Naval Academy as its third aviator. Being a naval pioneer, he set many flight records early on. In fact, he organized and commanded the Navy's first trans-Atlantic trip. Originally, the trip was supposed to deliver supplies to England during WWI, but the war ended sooner than expected. Nevertheless, the U.S. executed the mission after the war because trans-Atlantic flight was a great military asset. Three planes, one of which was piloted by Towers himself, accomplished the mission May 8-15, 1919.
During World War II, naval air missions proved vital in the Pacific theater. Serving as Chief of the Bureau of Aeronautics from 1939 until 1942, Admiral Towers secured sufficient aircraft supplies for the war. After his term, he was reassigned as Commander in Chief of the Pacific Fleet. There, he trained pilots to use the planes on military aircraft carriers, which preserved an American foothold in Southeast Asia. Following the war, the government awarded him the Navy Cross and the Navy Distinguished Service Medal awards.
Today places like his hometown of Rome, Georgia, proudly remember Admiral Towers for his service. His leadership affected American success in World War II and influenced the military's ideas about naval air power.
Browse these resources to learn more about Admiral Towers:
Georgia Historical Society to Dedicate New Historical Marker to Admiral John Henry Towers
Marker: Admiral John Henry Towers
#MarkerMonday: Admiral John Henry Towers
New Georgia Encyclopedia: Georgia Aviation Hall of Fame
Banner image courtesy of Rome Area Chamber of Commerce