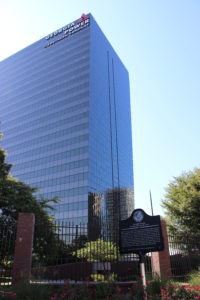 For this Profiles in Leadership segment, we turn to Georgia Power, Georgia's largest power provider. Although the majority of Georgians use its services, we do not always think about its history as a company. Henry M. Atkinson (1862-1939) gave the Georgia Electric Light Company of Atlanta a strong, prosperous foundation which developed into the present-day Georgia Power.
Atkinson was a banker in Georgia when Georgia Electric Light Company of Atlanta opened in 1883 with one 940-kilowatt generating plant and 22 electric streetlights. In 1891, Atkinson took control of the company and introduced many important changes. Under Atkinson's direction a steam-electric generating plant was purchased on Davis Street to match demands in the city. Atkinson also led the company to buy out smaller Atlanta streetcar and streetlight businesses. In 1902 Atkinson led the acquisition of the company's biggest competitor, Atlanta Consolidated Street Railway.
In 1912, Atkinson helped acquire Morgan Falls, a newly-built hydroelectric plant that provided the city's first water-generated electricity. Morgan Falls is still used today, having the ability to produce 17,000 kilowatts of electricity. In 1926, Atkinson again consolidated the company with Southeastern Power and Light Company, renaming the corporation the Georgia Power Company. After this, he worked as chairman of the board until his death in 1939.
Atkinson led Georgia Electric Light Company of Atlanta from powering 22 street lights to several different plants across Georgia. The foundation he laid formed a successful electric business that now serves millions of customers in Georgia and is a subsidiary of Southern Company. To honor his 35 years of leadership, several plants have been named in his honor, including Plant Atkinson on the Chattahoochee River in Cobb County and Plant McDonough-Atkinson near Atlanta.
To learn more about Georgia Power and Henry Atkinson, explore the links below.
Business History Initiative: Georgia Power
Georgia Historical Marker: Georgia Power, "A Citizen Wherever We Serve"