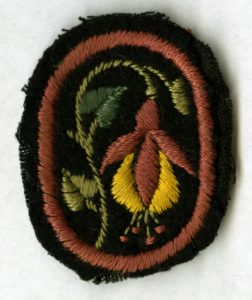 Juliette Gordon Low is widely remembered in Georgia as the founder of the Girl Scouts USA. It was not always clear that she would rise to great leadership. It was after reaching middle age at 52 years old that Low became a focused, driven leader as the founder of the Girl Scouts USA. This Profile in Leadership discusses some of the many difficulties she faced in her journey towards leadership.
As a young adult, Low battled chronic ear infections and injuries that left her with impaired hearing. The death of her sister Sarah Alice in 1880 was a great blow to the entire family.  She was married in 1886 to William Mackay Low, but the marriage was ultimately an unhappy one and her husband was in the process of obtaining a divorce when he died in 1905.
Throughout her life, Juliette had become notorious for starting new projects but neglecting to finish them. It was not until 1911, when Low met Sir Robert Baden Powell—founder of the Boy Scouts and Girl Guides—in Britain that she found a lasting interest. Something about her latest passion stuck as she began and led her own troop of Girl Guides in Scotland. Low returned to Savannah in 1912 where she established the American Girl Guides, later renaming it the Girl Scouts. In 1913, Low began touring America and England to found troops, establish camps, and change the lives of young girls.
Unfortunately, Low faced more difficulties in her late life. In 1923, Low developed cancer. She kept it secret from friends and family and carried on with business as usual. In 1926, she hosted the fourth World Camp, one of her greatest dreams, at Camp Edith Macy in New York, despite being in great pain. After this, on January 17, 1927, she lost her fight with breast cancer in her Savannah home, surrounded by friends and family.
Juliette Gordon Low's personal tragedies make her accomplishments all the more inspiring. For that reason and many more, she is a Georgia History Festival featured historical figure this year. To learn more about Juliette Gordon Low or to find teaching resources for the classroom, explore the resources below.
Featured Historical Figures: Juliette Gordon Low
Juliette Gordon Low printable PDF teacher guide
Sophia's Schoolhouse Episode 002: Treasures from the Gordon Family Papers
#MarkerMonday: First Girl Scout Headquarters in America
From the GHS Collection:
Main Collection: Juliette Low and the Girl Scouts : the story of an American woman, 1860-1927 / edited by Anne Hyde Choate and Helen Ferris, HS3353.G5 C5; Lady from Savannah: the Life of Juliette Low, by Gladys Denny Schultz and Daisy Gordon Lawrence, HS3353.G5 L88.
Manuscript: Girl Scout Council of Savannah (Ga.) papers, 1921-1969, MS 2000; Girl Scouts of the United States of America, Juliette Low Region VI Geechee Bowl papers, 1949-1950, MS 1315; Juliette Gordon Low letter, 1923 April 17 / Mrs. Juliette Gordon Low, MS 2157; Juliette Gordon Low papers, 1860-1937, MS 318; Walter John Hoxie Papers, 1917-1937, MS 403; Anne Mintz collection of Girl Scouts Troup 1 Records, 1919-1962, MS 2351; Edith Duncan Johnston Paper, 1881-1962, MS 433; Mildred Nix Huie Girl Scout Photograph, circa 1912
Rare: How girls can help their country / adapted from Agnes Baden-Powell and Sir Robert Baden-Powell's handbook, HS3353.G5 L68 1917; She was a daisy / by Lee Giffen, HS3353.G5 G55 1960
Banner Image: Juliette Gordon Low, 1926, Anne Mintz Collection of Girl Scouts Troop 1 Records, GHS Archives MS 2351-01-08-02