During the 2019-2020 Georgia History Festival, members of the Georgia Historical Society Affiliate Chapter Program will explore the legacy of women's suffrage in their community through submitted blog posts. Using existing historical markers as the basis or inspiration for these posts, contributors will explore how local women have influenced political, civic, and cultural life through the suffrage or anti-suffrage movement, voting, civic action, and literary or artistic pursuits. The posts will explore both the struggle for women's suffrage and the legacy of that struggle throughout the twentieth century and examine how these women affected change, both locally and nationally, even when they did not have the right to vote. This month the Juliette Gordon Low Birthplace's Kat White explores the Birthplace of Juliette Low historical marker, and the Girl Scouts and the 19th Amendment.
Juliette Gordon Low founded Girl Scouts of the USA in 1912, eight years before the ratification of the 19th Amendment provided that "the right of citizens of the United States to vote shall not be denied or abridged by the United States or by any State on account of sex."
During the struggle for women's right to vote leading up to 1920, Girl Scouts remained studiously neutral on the question, neither supporting nor condemning the suffrage movement. Girl Scouts Founder Juliette Low was not anti-suffrage. Low counted suffragists among her friends and felt that much was owed to them for their strong support of Girl Scouting. Votes for women was not her cause, however, and she didn't see it as her business. Low had committed herself to the cause of Girl Scouts. She wanted broad support for the movement.
But from Girl Scouting's beginnings in Savannah in 1912, there were women working for Girl Scouting who were active supporters of women's suffrage in their private lives. At least two Savannahians serving on the Girl Scout Board of Councilors in its first year openly supported women's right to vote: journalist Jane Judge and Hortense Orcutt, progressive educator and influential director of the Kate Baldwin Free Kindergarten.
Mildred Cunningham served as a captain of the Red Rose Patrol when it was first formed in March 1912.[*] Later, as a vice president of the Equal Suffrage Party of Georgia, Cunningham repeatedly lobbied for Girl Scout endorsement of women's suffrage.[i] In response, Juliette Low sent Cunningham "a pamphlet" to reinforce Girl Scouts' neutrality—perhaps the 1917 Leaders' Manual declaring that Girl Scouts was "NON SECTARIAN and NON POLITICAL."[ii] In May 1920, with suffrage gained, Mildred Cunningham founded the Savannah chapter of the League of Women Voters. Both Jane Judge and Hortense Orcutt were active members.
Meanwhile, what was to be done for the girls? Through Girl Scouting they learned good citizenship. With a growing number of states and territories granting women suffrage in advance of federal legislation, what if citizenship included the right to vote? The tension between diplomatic neutrality on the suffrage question on one hand and civic relevance on the other is reflected in the Girl Scout handbooks of the era. From 1913 to 1920, content changes in the handbooks tracked the momentum of the women's suffrage movement.
The first Girl Scout handbook was published in 1913, very much the product of a new organization just finding its way. Drawing heavily from the English Girl Guide handbook which preceded it, How Girls Can Help Their Country introduced Girl Scouting to the United States with these words: "If character training and learning citizenship are necessary for boys, how much more important it is that these principles should be instilled into the minds of girls who are destined to be the mothers and guides of the next generation."[iii]
There is no mention of voting. Required knowledge on government and the law of the land was largely limited to flag history and etiquette. In order to progress from Tenderfoot to First Class Scout, the only civics-related requirements were to "know the Governor of their State and Mayor of their city," know "the History of the Flag and how to fly it," and to craft "a drawing or cut out and made on cloth or paper the Flag of the United States."[iv]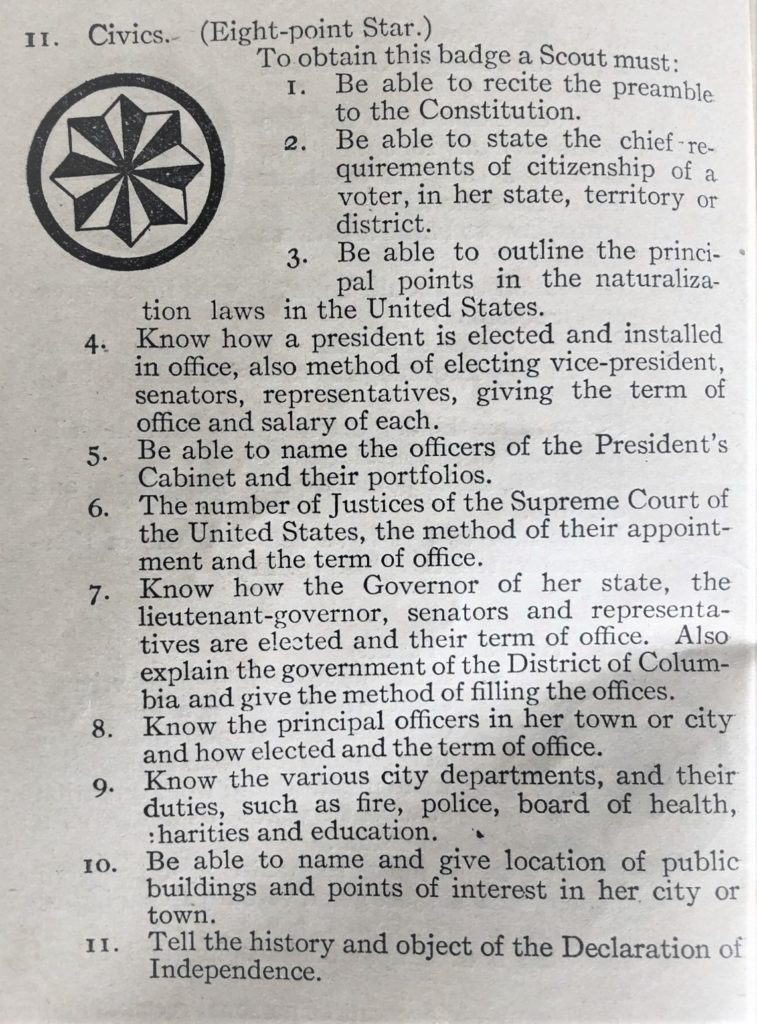 A new edition of How Girls Can Help Their Country was published in 1916. (A slightly updated version followed in 1917.) Though the government knowledge requirements for making rank remained unchanged from 1913, a new Civics Badge was introduced. To earn this badge, a Girl Scout was required to show some understanding of local, state, and federal government. In addition, a Girl Scout had to "be able to state the chief requirements of citizenship of a voter in her state, territory, or district."[v] The wording of this badge requirement avoids the question of who among citizens were not granted voting rights.[†]
A brand-new handbook, Scouting for Girls, was introduced in 1920. It was the first to be published after Juliette Low had retired as president of Girl Scouts and turned over copyright of the handbook to the organization.[vi] The Civics Badge was retired, and a new Citizen Badge took its place.[vii] For this handbook, experts in various subjects were tapped to provide content. Gertrude Brown devised the Citizen Badge test.[viii] Brown was a leading suffragist, President of the New York State Suffrage Association in 1913, and a founder of the League of Women Voters.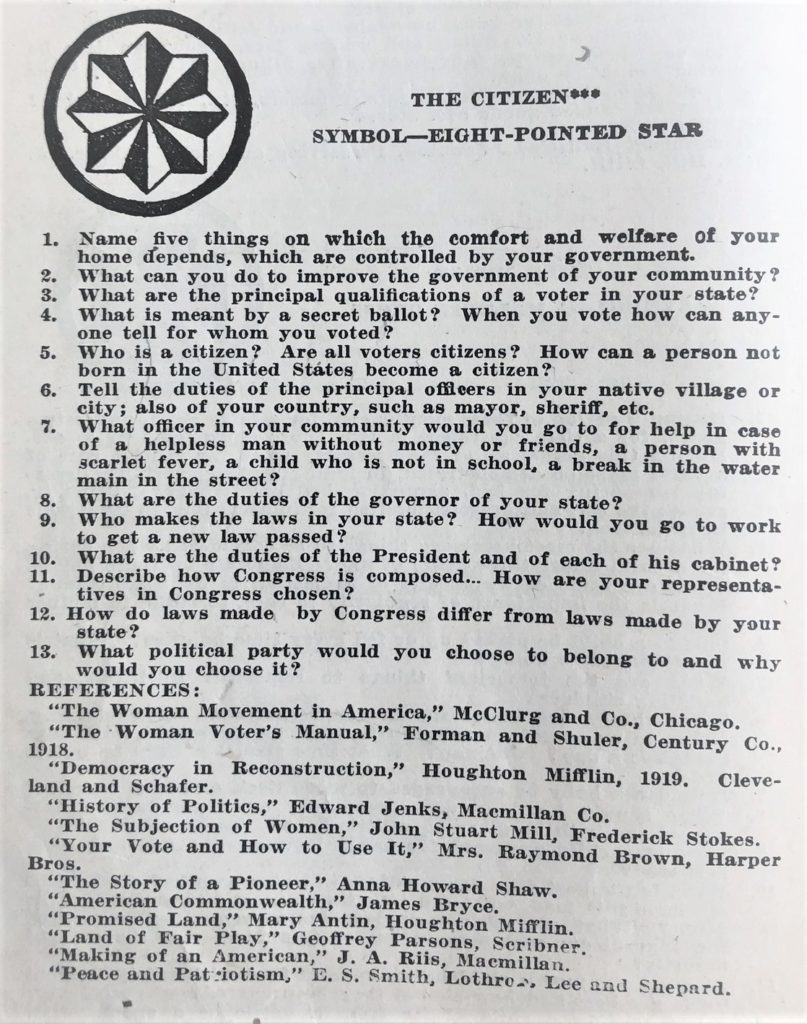 The Citizen badge requirements address girls as future voters with political influence. Suggested references included works on patriotism, the immigrant experience, and voting primers for women—including Gertrude Brown's own Your Vote and How to Use It. Also listed is the autobiography of Anna Howard Shaw, trailblazing suffragist, Methodist minister, and physician. Shaw was featured elsewhere in the handbook as a role model "Scout," a self-educated "Pioneer" who worked to survive in the Michigan woods as a girl and "grew up to be one of the women who earned the American girl the right to vote."[ix] Most intriguing is the inclusion of the hard-hitting 1911 book The Woman Movement in America—the only text listed whose author was not named. The author was Belle Squire, a radical activist who practiced and preached "No Vote No Tax" in the fight for women's suffrage and assisted Ida B. Wells in founding the Alpha Suffrage Club, the first recorded suffrage organization for African-American women.
The significant shift in tone and content of Girl Scout handbooks between 1917 and 1920 might be due to the reality that women's suffrage was now enshrined in law and therefore was "NON POLITICAL." But reading between the lines of the Citizen Badge references section suggests that the changes also reflect the more progressive sentiments of a Girl Scout leadership that included prominent suffragists and social reformers such as Helen Storrow, Edith Macy, and Lou Henry Hoover. With over 80,000 members nationwide and its headquarters established in New York City, Girl Scouting had grown well beyond the boundaries of its hometown.
From its earliest years, Girl Scout leadership tended to attract women and men who were active in other progressive causes such as women's suffrage, social reform, immigrant welfare, and civil rights. One of the early black Girl Scout leaders in Savannah was Mamie George Williams.[x] In 1920, Williams was at the helm of a hugely successful drive by the Savannah Federation of Negro Women's Clubs to register black voters. Williams also continued to push for voting rights for the many African Americans who were still denied suffrage through state voting restrictions.[xi]
Nina Pape, a Savannah educator who was instrumental in Girl Scouts' founding, believed in teaching girls "how to think, not what to think."[xii] Since 1920, Girl Scouts of the USA has encouraged girl members to be civically informed and engaged. Girl Scout alums have served as federal legislators on both sides of the aisle, on the Supreme Court, and as Secretaries of State. Girl Scout handbooks are continuously updated to ensure that they are relevant and useful to girls. The Citizen badges today continue to train Girl Scouts at all levels to serve as informed activists and advocates in their communities.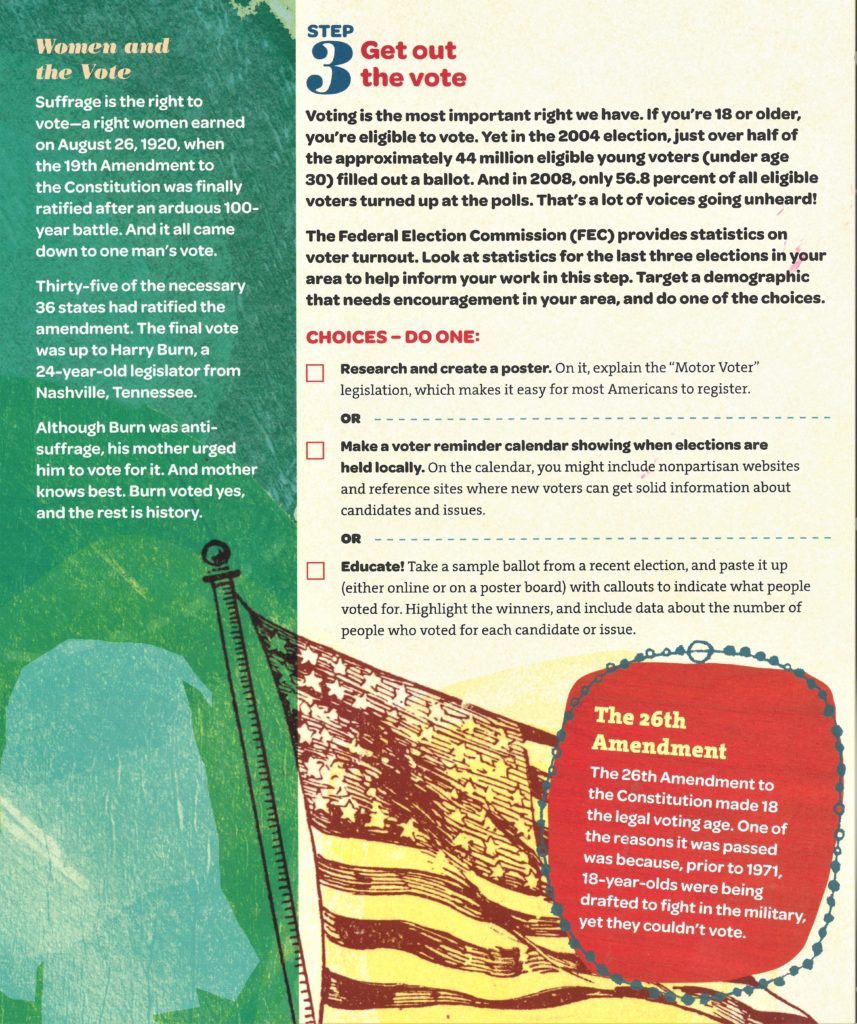 ---
Notes and Works Cited
[*] The organization was known as "Girl Guides" until the name was changed to "Girl Scouts" in 1913. "Patrols" refer to what are now called "troops" and "patrol captains" are now "troop leaders".
[†] Citizenship was not a prerequisite for voting for some municipal, state, or even federal elections, though increasing anti-immigrant feeling led more and more states to legislate against non-citizen voting.
[i] Work Diary of Edith D. Johnston (National Secretary of Girl Scouts 1913-1914) January 24, 1916. GSUSA-Juliette Gordon Low Birthplace Collection; Letter from Juliette Low to Edith C. Macy, March 26, 1917. Georgia Historical Society, Gordon Family Papers, MS 318.
[ii] Leaders' Manual Girl Scouts, p. 4. Copyright 1915 by Juliette Low, New York. GSUSA-Juliette Gordon Low Birthplace Collection.
[iii] How Girls Can Help Their Country, by W.J. Hoxie, page v. The Knickerbocker Press, New York, 1913.
[iv] Ibid. pp. 123-124.
[v] How Girls Can Help Their Country, p. 36. M.S. and D.A. Byck, Savannah, 1916.
[vi] Girl Scout Collector's Guide: A History of Uniforms, Insignia, Publications, and Memorabilia, Second Edition, by Mary Degenhardt and Judith Kirsch, p. 385. Texas Tech University Press, Lubbock TX, 2005.
[vii] Scouting for Girls, Josephine D. Bacon ed., p. 504. Clark & Fritts, New York, 1920.
[viii] Ibid. preface.
[ix] Ibid. p. 26.
[x] While black women and girls had been participating in Girl Scouts since at least 1918, Savannah did not have its own officially recognized African-American Girl Scout troop until March 17, 1942. Georgia Women of Achievement, Georgia Women of Achievement, Inc, 2018, https://www.georgiawomen.org/mamie-george-williams. Board Minutes of Girl Scout Association of Savannah, March 17, 1942. Girl Scouts of Historic Georgia Archives.
[xi] The Weight of Their Votes: Southern Women and Political Leverage in the 1920s, By Lorraine Gates Schuyler, p. 51. University of North Carolina Press, Chapel Hill NC, 2008.
[xii] Pressly, Paul M. Educating the Daughter's of Savannah's Elite: The Pape School, the Girl Scouts, and the Progressive Movement. The Georgia Historical Quarterly, Vol. LXXX, Number 2, Summer 1996, p.267.