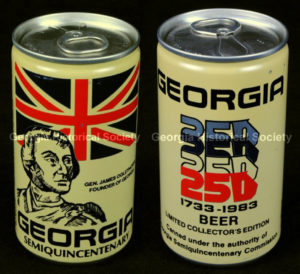 This month we continue our exploration of the Georgia History Festival theme, "United States Constitution: Ensuring Liberty and Justice for All," with a look at collection items that relate to oaths, debts, supremacy, and ratification.
Souvenir Beer Can for Georgia's Semiquincentenary, the 250th Anniversary of Georgia's Founding. 1983.
This souvenir beer can was commissioned for Georgia's semiquincentennial, the 250th anniversary of Georgia's founding. The can is enameled with an image of General Oglethorpe and a British flag. Imagery on the can signifies the importance of British Parliament and Royal rule in the establishment of Georgia as a colony. During the Trustee Period (1732-1752), Georgia did not have the right to a local government, and strong administrative and fiscal ties to the British Crown left some Georgia colonists hesitant to join the fight for independence during the dawn of the American Revolution. Georgia declined to attend the First Continental Congress because of conflicted feelings of loyalty to the Crown, but a representative was sent to the Second Continental Congress in 1775, bringing the colony into the struggle for independence.