The Georgia Day Parade is now officially one week away. Are you getting ready?
Each year students, musicians, local dignitaries, and costumed historical figures march through Savannah's historic squares for the annual Georgia Day Parade as part of the annual commemoration of the founding of the Georgia colony on February 12, 1733, by James Edward Oglethorpe, a tradition dating back to the earliest years of the colony's founding. The beloved event is now part of the Georgia Historical Society's Georgia History Festival.
The Georgia Historica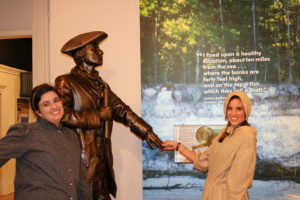 l Society Programs Team recently paid a visit to Massie Heritage Center to find the perfect outfits for the Georgia Day Parade. After trying on petticoats, bonnets, and a selection of dresses, it is safe to say that the perfect parade outfits were found.
If you are looking for inspiration for your own parade costume, check out the GHS Pinterest boards to help you get started: https://www.pinterest.com/georgiahistoric/georgia-day-parade-outfits/. If you would like to purchase an outfit, locally you can visit Barnett Education Supplies (38 W De Renne Ave) and Massie School (207 E Gordon St).
The 2017 Georgia Day Parade will be held on February 10, beginning at 10:45 a.m., with a rain date of February 13. This event is free and open to the public.