In recognition of this month's Georgia History Festival theme, Sequoyah and the Power of Language, this week's Super Museum Sunday Spotlight features the Chief Vann House Historic Site. James Vann, Cherokee leader in the late 18th and early 19th centuries and the home's original owner, built the two-story brick home with the aid of Moravian missionaries. The house serve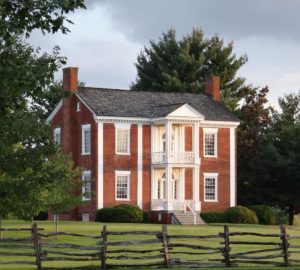 d as the residence of the Vann family until the Indian Removal Act forced the Cherokee to relocate west of the Mississippi River.
Today, visitors of the Chief Vann House Historic Site will notice mantles, door jambs, and wainscoting which are all original to the home. The doors in the house are known as Christian doors, which feature a cross and an open Bible. The elaborately carved stairway on the side of the main entrance is of historical significance-it is one of the oldest examples of cantilevered construction in Georgia. The bricks were made from the red clay on the Spring Place Plantation, and the nails and hinges that were used in construction came from Vann's own blacksmith shop.
Learn more about the Chief Vann House Historic Site when you visit Sunday, February 5 as part of the Georgia History Festival's Super Museum Sunday.
Check back in January for a full list of participating sites!
Images courtesy of Chief Vann House Historic Site.