Abraham and Abigail Minis arrived in Savannah on July 11, 1733, with some of Georgia's first colonists. After Abraham died in 1757, he left behind Abigail and their eight children, the youngest of which was 9. As a widow, Abigail needed to act swiftly to provide for her family. For this Profile in Leadership, we will see how this Georgia colonist was not only a sensible mother in the face of personal challenges, but also a frugal businesswoman and ardent Revolutionary.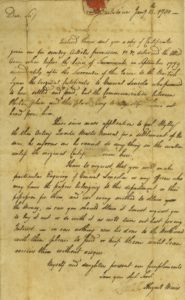 Most Colonial-era women lived and worked within the domestic sphere, and widows usually required assistance from male family members or friends to earn an income. Knowing these challenges, Minis believed land ownership and frugal practice could provide her family sufficient crops, livestock, and capital to survive. She began to purchase land throughout Coastal Georgia and South Carolina and did so into her eighties. For additional income, she opened a tavern in Savannah. These sources of income kept the family afloat.
During the American Revolution (1775-1783), Minis used her wealth to further the revolutionary cause. In 1779, French and American troops laid siege to Savannah, which was under British control. During the siege, Minis provided the Revolutionary soldiers food and shelter. After the allied troops failed to win back the city, the British treated the Minis family as traitors, and they fled to Charleston for safety.  Minis later asked for compensation for her sacrifices, and after the war she returned with her family to Savannah.
Minis faced many challenges in the New World. She lost her husband, who was the main provider for the family, and tenaciously became a business woman to support her family. Then, under British occupation, she tended to Patriot soldiers and was condemned by the British as a traitor. However, Minis is now considered a Revolutionary hero. She also stands apart from other Colonial-era women in that we can learn about her life from the business records she left behind. Explore the resources below to learn more about Abigail Minis.
GHS Website:
Georgia and the American Revolution
GHS Collection:
Digital Image Catalog: Abigail Minis to Mordecai Sheftall. Charlestown, Jan. 14, 1780; "A View of Savannah as it stood the 29 March 1734" by Peter Gordon
Main Collection: The Minis family of Georgia, 1733-1992 by Kaye Kole. Savannah, Ga.: Georgia Historical Society, c1992CS71.M658 1992; The Jews in early America: a Chronicle of Good Taste and Good Deeds by Sandra. Cumings Malamed, McKinleyville, Calif.: Fithian Press, 2003, E184.3512 .M35 2003
Manuscript : Jacob Florance Minis letter, 1917, MS 564; Jacob Minis colonial papers, 1768-1793, MS 568; American Jewish Archives collection on Georgia history, MS 1157; Philip Minis papers, MS 566
Library of Congress:
Siège de Savannah Fait par les Troupes Françoises aux Ordres du Général d'Estaing Vice-Amiral de France, en 7.bre, et 8.bre 1779.