Most Georgians know at least a little about Tomochichi and the important role his leadership played in the early days of Georgia's history, but how many in our state have ever explored the amazing documentary record left behind from this pivotal era? October, as American Archives Month, is the perfect time to dig through the archives and learn more about the famous Yamacraw Chief.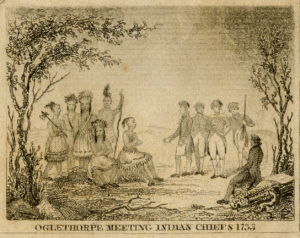 The Georgia Historical Society has recently updated its online resources about Tomochichi to include more connections to the archives and more interactivity. For example, a map lets users explore locations visited by a delegation of Yamacraw Indians led by Tomochichi on a trip to London in 1734. An updated timeline of Tomochichi's life and legacy now includes visuals from the GHS collection, and a new section discusses how recent scholarship has used archival maps to shed new light on the controversial topic of Tomochichi's death and burial.
A new teacher guide is also available to provide Georgia educators resources and activities for the classroom. The guide includes a list of primary and secondary sources from the GHS archives and other repositories that provide further study on the topic. Interested researchers can also visit GHS' online collection catalog to search for additional items related to Tomochichi.
Celebrate American Archives Month by visiting our newly updated resources on Tomochichi and starting your investigation into the archives!
Other GHS Resources
Today in Georgia History: March 23, Georgia Indians in England
Today in Georgia History: October 5, Tomochichi