While famously known for his trailblazing baseball career, Georgia native Jackie Robinson (1919-1972) also persistently fought to gain equality for African Americans throughout his life. Robinson was a civil rights leader who used his influence and resources to create change, and his efforts are the focus of this Profiles in Leadership installment.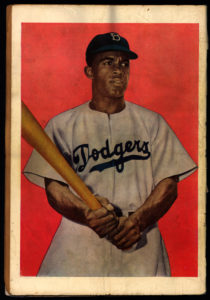 After his baseball career, Jackie Robinson worked for Chock Full o'Nuts, a New York coffee company, as Director of Personnel, Vice President, and a member of its Board of Directors. Robinson used his positions to benefit his employees, advocating for others in matters of hiring, training, compensation, and promotion. Outside of the workplace, he helped found Freedom National Bank in Harlem. Located in a poor area, the bank provided small business loans and mortgages. Its purpose was to help African Americans achieve a better economic future.
In 1962, Martin Luther King, Jr. asked Robinson to visit Georgia to assist in the Albany Movement following mass arrests and the burning of three churches in response to peaceful protests in that city. Robinson spoke out about the hate crimes and raised money to rebuild the churches. He also advocated for support at Chock Full o'Nuts, which contributed a generous donation to the rebuilding effort. After two years of hard work, he raised $50,000, and the churches were rebuilt.
Jackie Robinson's example led others to actively participate in the advancement of equality among America's people. Georgia especially remembers him for defending equal rights for African Americans. He gave hope to those who daily organized to fight for the freedom of all.
To learn more about Jackie Robinson, go to his Featured Historical Figure webpage.