The 2019-2020 Georgia History Festival theme, "Women's Suffrage at 100: The 19th Amendment and Georgia History," focuses on exploring the legacy of women's suffrage in Georgia and the United States in commemoration of the 100th anniversary of the struggle to pass the 19th Amendment, in which women won the right to vote. Throughout the Festival, the Collection Highlights Blog will share materials from GHS collections that present varying perspectives, opinions, and efforts related to the women's suffrage movement and its legacy in Georgia.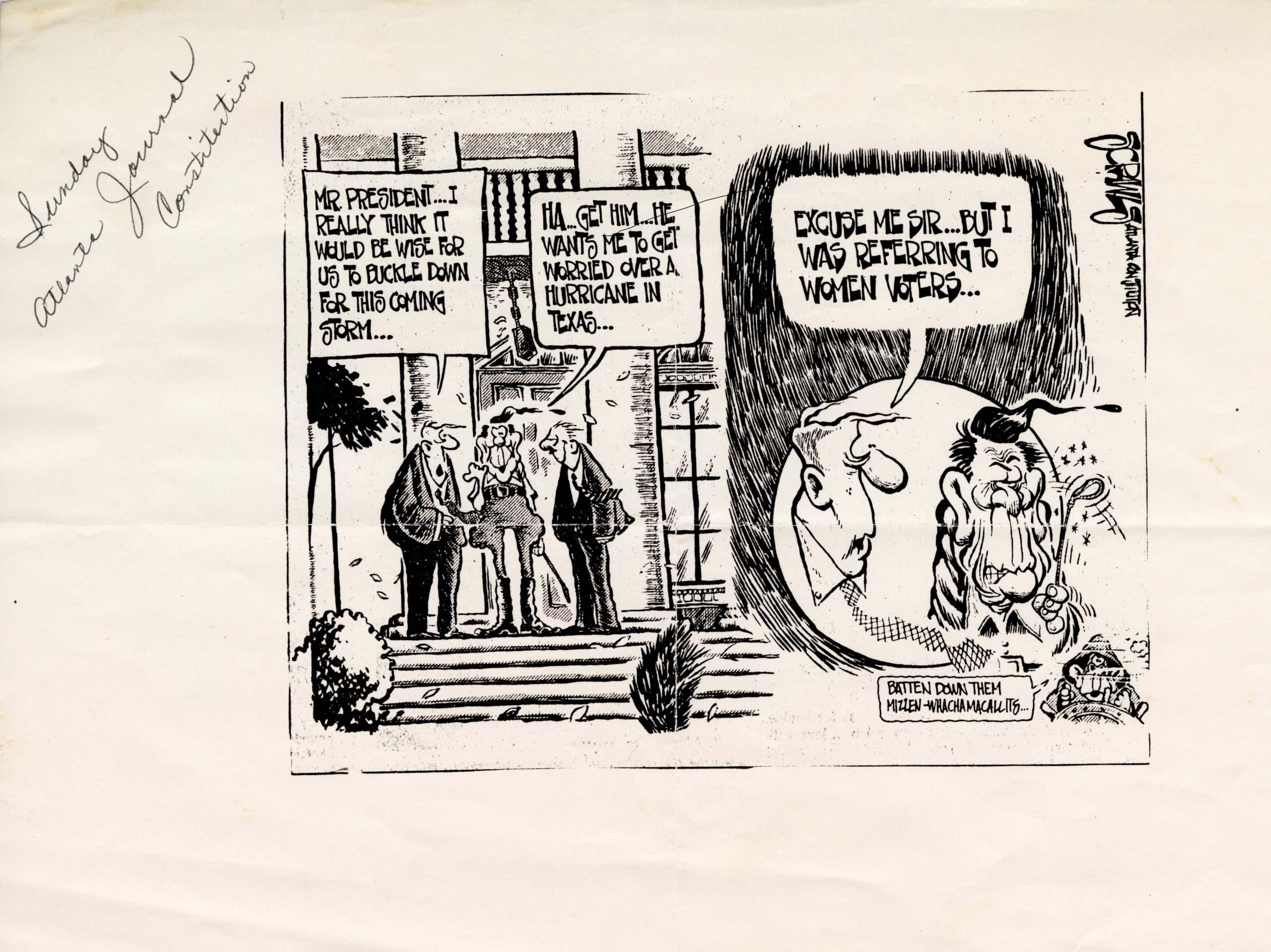 This political cartoon published in the Atlanta Journal Constitution in the 1980s alludes to President Ronald Reagan's political problems by suggesting the potential power of the female electorate. It also references the relatively new phenomenon that emerged in that decade called the "gender gap."
The 1984 presidential election was notable for two reasons. First, Reagan was re-elected for a second term in one of the largest landslide victories in presidential history, Reagan garnering 525 electoral votes to opponent Walter Mondale's 13. Secondly, it was notable for being the first time a major party had a woman on its ticket—Geraldine Ferraro, Mondale's running mate.
The impact of female voters since the passage of the 19th Amendment in 1920 can be measured in various ways—but data suggests that the "gender gap" or consistent differences in men's and women's political opinions did not emerge until the late 1970's.
Female voters and politicians tend to favor legislation that specifically benefits women such as reducing the income gap, equal employment opportunities, and family and child care benefits. Women also tend to support environmental protections, civil rights issues, and gun control.
Ronald Reagan was supported by 56 percent of the male electorate and 47 of the female electorate illustrating an 11-point margin in the gender gap in the 1984 presidential election.