The 2019-2020 Georgia History Festival theme, "Women's Suffrage at 100: The 19th Amendment and Georgia History," focuses on exploring the legacy of women's suffrage in Georgia and the United States in commemoration of the 100th anniversary of the struggle to pass the 19th Amendment, in which women won the right to vote. Throughout the Festival, the Collection Highlights Blog will share materials from GHS collections that present varying perspectives, opinions, and efforts related to the women's suffrage movement and its legacy in Georgia.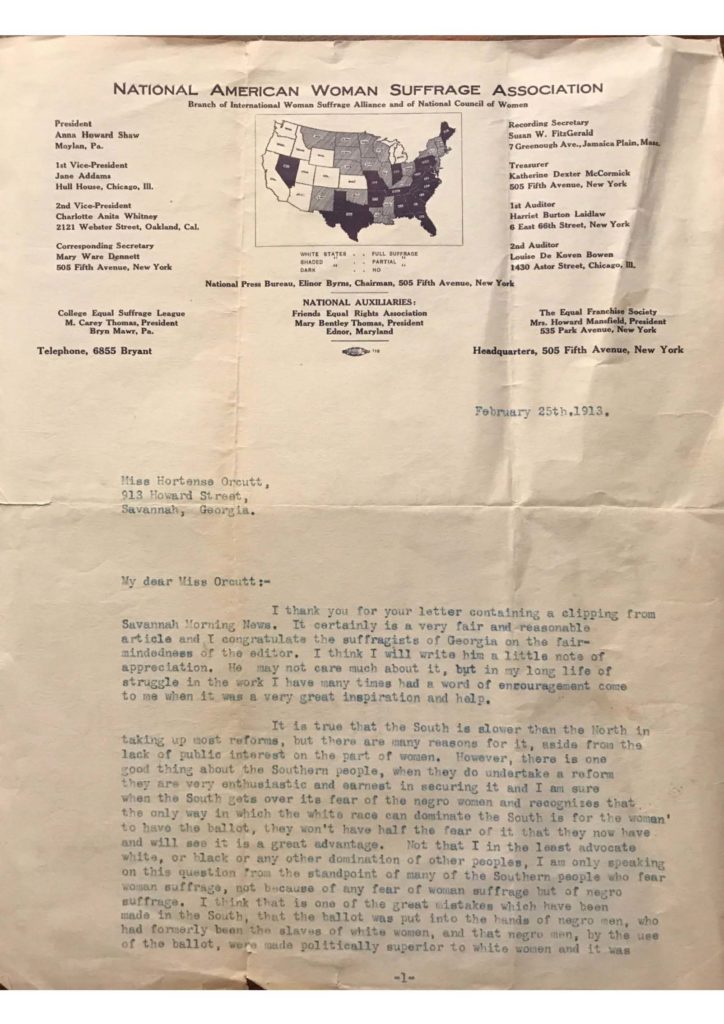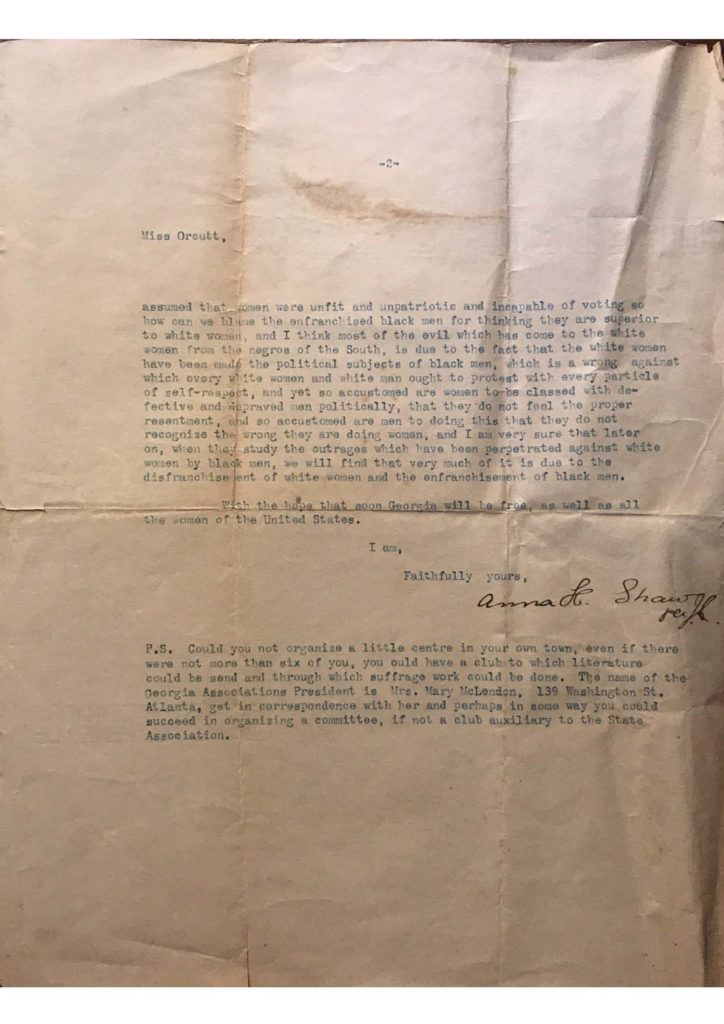 This letter, written in 1913, from Anna Howard Shaw of Massachusetts to Miss Hortense Orcutt, Savannah resident and suffragist, highlights one of the many complexities in the suffrage debate—race. White and black women alike fought for nation-wide suffrage, but the movement was widely segregated by race and divided by racial politics.
Shaw, the president of the National American Woman Suffrage Association, explains how racial tensions in the South could be utilized to persuade southern white women to participate in the suffrage movement.
In the letter, Shaw alludes to the passage of the 15th Amendment decades earlier, granting black men the right to vote in 1870. She explains that black men who had formerly been enslaved and considered property had gained more political power than white women.
Despite the passage of the 15th Amendment southern legislatures dominated by white men enacted measures to prevent black men from voting, including poll taxes and literacy tests. Acts of racial violence, including lynching, were also common means of voter intimidation and disenfranchisement.
Shaw argues that anti-suffragists feared that giving white women the right to vote would ultimately lead to black women voting as well. She makes the point that many whites feared that suffrage threatened to unravel the fabric of southern society by diminishing the power of white supremacy in the political sphere. Shaw counters that point by implying that granting white women suffrage would reinforce white supremacy by adding additional strength to the white vote (note that when she refers to "women" voting, she often means white women).
This letter highlights the raw and complex history of racial segregation and discrimination in the women's suffrage movement and the limitations of its commitment to freedom. Shaw underscores the role of racial politics in southern society, hoping that the imperative of white supremacy could be used to support white female suffrage. Through this letter she reveals the racial bias carried throughout the women's suffrage movement by many of the white women, whose commitment to equality was defined by gender, but not by race.