The 2019-2020 Georgia History Festival theme, "Women's Suffrage at 100: The 19th Amendment and Georgia History," focuses on exploring the legacy of women's suffrage in Georgia and the United States in commemoration of 100th anniversary of the struggle to pass the 19th Amendment, in which women won the right to vote. Throughout the Festival, the Collection Highlights Blog will share materials from GHS collections that present varying perspectives, opinions, and efforts related to the women's suffrage movement and its legacy in Georgia.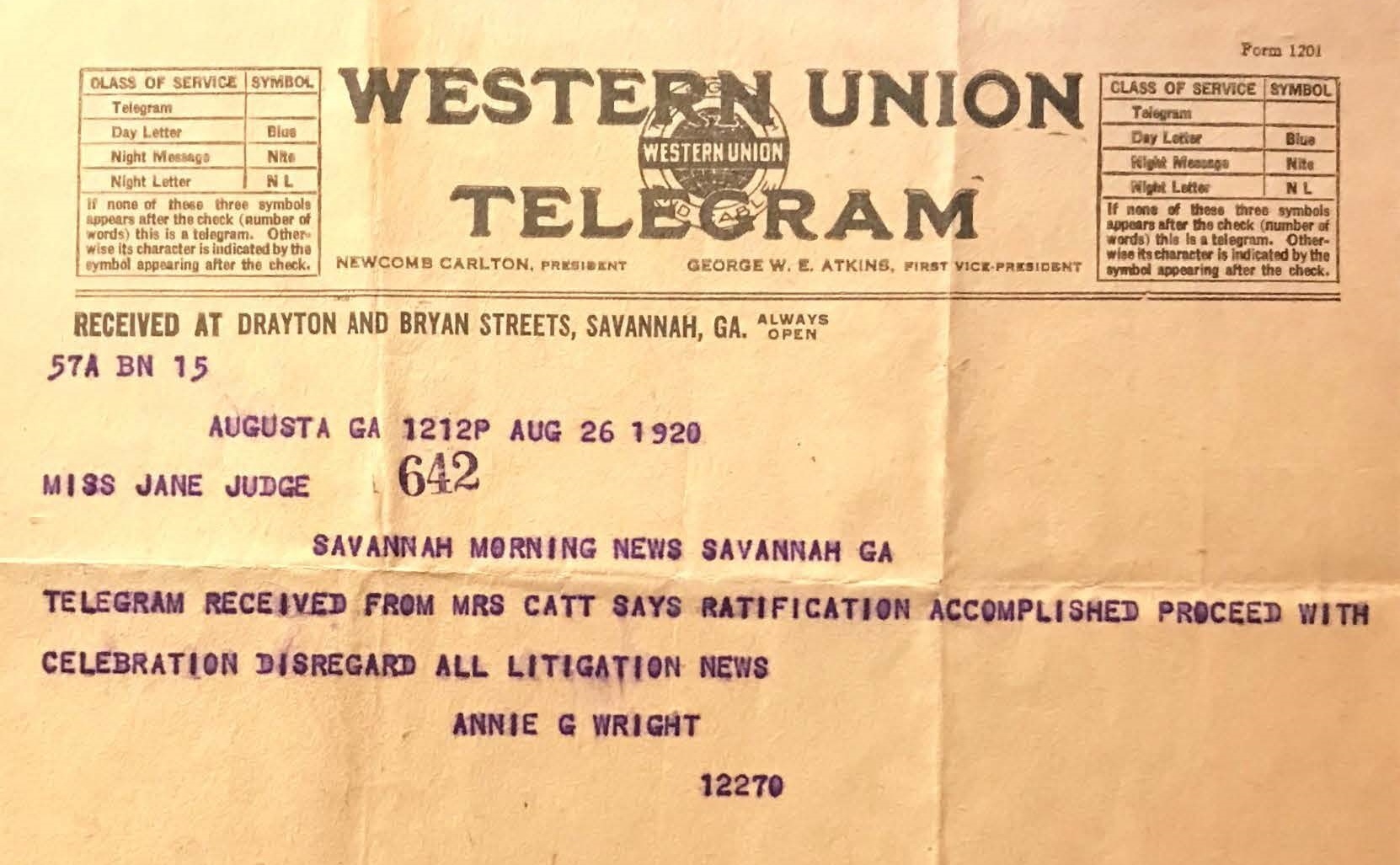 This is a telegram between two members of Georgia's League of Women Voters celebrating the ratification of the 19th amendment in 36 states. Annie Wright and Jane Judge were both local Georgia players in the nationwide effort to secure voting rights for American women.
The referenced "Mrs. Catt" was Carrie Chapman Catt, the founder of the League of Women Voters. This organization was less than a year old when the 19th amendment passed and represented the most recent organized group in the decades-long struggle to secure voting rights for women.
The date on the telegraph, August 26, 1920, marks the date the amendment went into effect rather than the date it was ratified—August 18, 1920. In 1984, on the 64th anniversary of the amendment taking effect, President Ronald Reagan proclaimed August 26th as Equality Day, recognized annually.
In this message Annie is encouraging her colleague Jane to celebrate for now, but they likely understood the fight was far from over. Due to administrative delays women in Georgia did not vote state-wide until 1922 and Georgia did not officially ratify the 19th amendment until February 20, 1970.