The 2019-2020 Georgia History Festival theme, "Women's Suffrage at 100: The 19th Amendment and Georgia History," focuses on exploring the legacy of women's suffrage in Georgia and the United States in commemoration of the 100th anniversary of the struggle to pass the 19th Amendment, in which women won the right to vote. Throughout the Festival, the Collection Highlights Blog will share materials from GHS collections that present varying perspectives, opinions, and efforts related to the women's suffrage movement and its legacy in Georgia.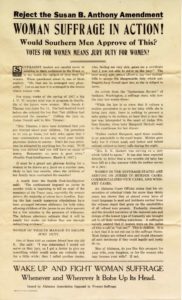 This broadside published by the Alabama Association Opposed to Woman Suffrage, a branch of the National Association Opposed to Woman Suffrage (NAOWS), offers a glimpse into the platforms of anti-suffragists. The NAOWS was established in 1911 and coordinated the anti-suffrage activities of individual state organizations.
Propaganda such as this was often used to diminish the legitimacy of the suffrage movement. The NAOWS sent speakers, funds, and literature to campaigning states—such as Georgia—in order to convince the public that women were more useful to their communities not being involved in politics.
In this example, southern men are urged to vote against the Susan B. Anthony Amendment in order to prevent women from gaining the vote on a national level. The broadside draws attention to the potential for women to serve on juries in the South and references a trial in Seattle that prevented a woman serving jury duty to tend to a sick child.
While the anti-suffrage movement was comprised of men and women, this strategy by the NAOWS was an attempt to appeal to some men's ideals of women's roles in society.