The 2019-2020 Georgia History Festival theme, "Women's Suffrage at 100: The 19th Amendment and Georgia History," focuses on exploring the legacy of women's suffrage in Georgia and the United States in commemoration of the 100th anniversary of the struggle to pass the 19th Amendment, in which women won the right to vote. Throughout the Festival, the Collection Highlights Blog will share materials from GHS collections that present varying perspectives, opinions, and efforts related to the women's suffrage movement and its legacy in Georgia.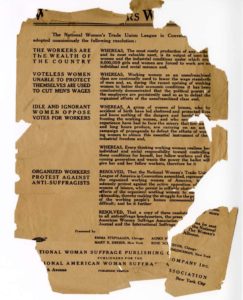 This broadside was published by the National Woman Suffrage Publishing Company for the National Women's Trade Union League (NWTUL). The NWTUL, founded in 1903, provided a way for unenfranchised working women to fight against low wages, long hours, and dangerous working environments. Promoting women's suffrage was a priority to the NWTUL because members knew that the power to vote was the power to effect change.
This broadside announces that the NWTUL will rally against people who oppose women's suffrage. The broadside uses fierce language against anti-suffrage supporters and was sent to the headquarters of every anti-suffrage group in the United States. Pro-suffrage groups such as the National American Woman Suffrage Association, The Woman's Journal, and the International Suffrage Alliance, used propaganda such as this broadside to promote suffrage among labor groups.