Date/Time
Date(s) - Saturday, February 15, 2020
7:00 pm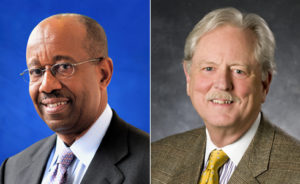 Saturday, February 15, 2020
7:00 p.m.
The Savannah Convention Center, Ballrooms A and B
1 International Drive, Savannah
The 2020 Trustees Gala is the Georgia Historical Society's premier annual event and the culmination of the 2019-2020 Georgia History Festival.  The Trustees Gala reigns as one of Georgia's most successful non-political black-tie events, bringing together business, philanthropic, and community leaders from across the state and nation as Governor Brian Kemp and the Georgia Historical Society induct the 2020 Georgia Trustees: Robert L. Brown, Jr., President and CEO of R.L. Brown & Associates, Inc., renowned architect and civic leader; and Robert S. Jepson, Jr., Founder and CEO of Jepson Associates, Inc., philanthropist and visionary entrepreneur.
From Georgia with love: presenting, for your eyes only, an elite gathering of special agents honoring two of Georgia's greatest assets—the 2020 Georgia Trustees.  In this ever-changing world in which we live in, you used to say you would never miss a Gala like this—you know you did, you know you did, you know you did.  Join us as we dance into the fire and chase the morning light at "Nobody Does It Better," an evening of dinner, dancing, and lively conversation with the inductees.
Please call 912.651.2125, ext. 156 to reserve your seats.
---
Learn more about the Georgia Trustees
See the full list of Georgia History Festival sponsors.
---
Trustees Gala Accommodations
The Georgia Historical Society is pleased to offer our guests outstanding accommodations for the 2020 Trustees Gala. Please use the link below to receive our specially negotiated room rates or ask for them when calling to make reservations.
The Marshall House
Built in 1851 and beautifully restored, The Marshall House is one of the most unique hotels in Savannah. The hotel is located on Broughton Street in the heart of Savannah's famed Landmark Historic District and steps to great shopping and dining.
Amenities include enhanced WiFi, wine and cheese receptions, and nightly entertainment. The hotel's 68 guest rooms offer an authentic historic Savannah experience with modern conveniences. Coastal Living magazine named The Marshall House among its top 20 favorite lodgings and featured on the Travel Channel's "Great Hotels" program.
Visit Marshall House Reservations and enter promo code Trustees Gala, or call  800.589.6304 and request the Trustees Gala room block.
---
The Drayton Hotel
Situated in the center of Savannah's Historic District, the newly opened Drayton Hotel reinvents one of Savannah's oldest buildings dating from the 1890s. Carefully restored to embrace the building's 19th century exterior, The Drayton Hotel creates a luxury experience while staying true to its historic roots, paying homage to the building's traditional Victorian architecture and neighborhood charm.
Enjoy The Drayton's 50 rooms and suites with dramatic views of City Hall, the Savannah River, and surrounding historic neighborhood. Amenities include complimentary Wi-Fi, Bluetooth speakers, Luxury linens, quilted bathrobe and slippers, mini-bar, and twice daily housekeeping, including turndown service.
Accommodations are available Friday, February 14 through Sunday, February 16, 2020. Visit the Drayton Hotel's Trustees Gala guest link to make your reservation.
---