Date/Time
Date(s) - Saturday, April 30, 2022
7:00 pm
Location: The DeSoto Hotel
15 East Liberty Street, Savannah, Georgia
The Trustees Gala is the Georgia Historical Society's premier annual event and the culmination of the Georgia History Festival. Each year, this elegant and much-anticipated evening draws top local, state, and national leaders to honor and pay tribute to the best the State of Georgia has produced.
The Trustees Gala will be held on Saturday, April 30, 2022, in Savannah.
Join the Georgia Historical Society (GHS) and leaders from across the state as we induct the 2022 Georgia Trustees, Dan Cathy and Shirley Franklin.
GHS presents "Wonderwall," a delightful and inspiring evening of dinner, dancing, and lively conversation with the inductees.
---
The Georgia Trustees
In conjunction with the Governor's Office, the Georgia Historical Society reestablished the Georgia Trustees as a way of recognizing Georgians whose accomplishments and community service reflect the highest ideals of the founding body of Trustees. The original Georgia Trustees, a governing body chartered and appointed by His Majesty King George II of England in 1732 to establish a new colony in North America, founded Georgia upon the principle of Non Sibi, Sed Aliis, "Not for Self but for Others." GHS and the Governor's Office reestablished the Trustees in 2008. The Governor annually appoints new Trustees whose history-making accomplishments and service reflect the original Trustees' ideals.
Learn more about the Georgia Trustees
---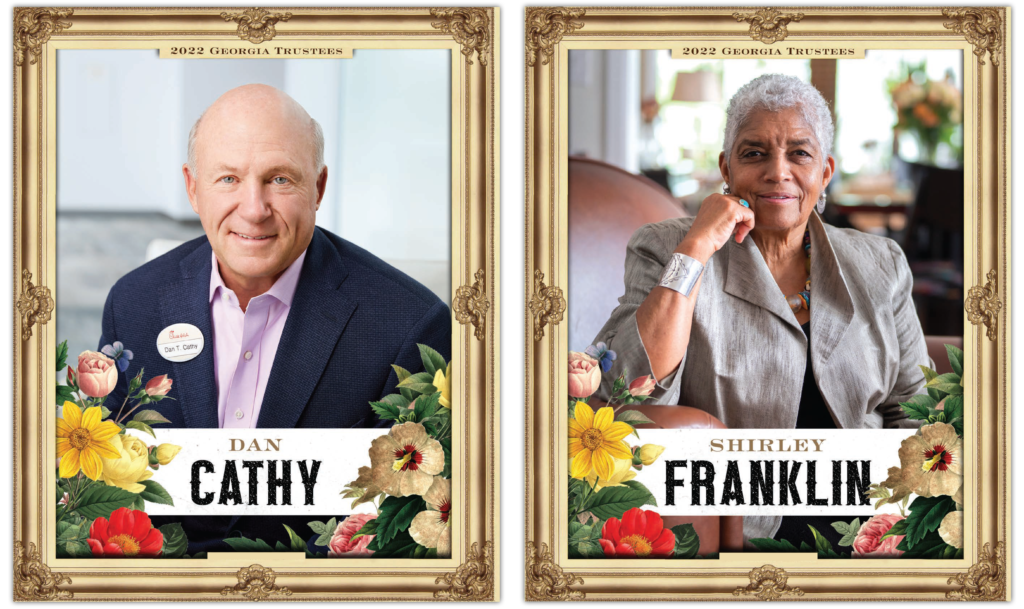 ---

For the first time, this special event will stream live! We invite you to watch on Saturday, April 30, beginning at 8:15 p.m. at WABE.org or at SavannahNow.com.

---
---


---
---
---
Previous Inductees:
2021:
David P. Abney, Former Executive Chairman of the UPS Board of Directors
Juanita Powell Baranco, Executive Vice President and COO of Baranco Automotive Group
2020:
Robert L. Brown, Jr., President and CEO of R.L. Brown & Associates, Inc.
Robert S. Jepson, Jr., Founder and CEO of Jepson Associates, Inc.
2019:
Frank Blake, Retired Chairman and CEO of The Home Depot
John Schuerholz, Vice Chairman Emeritus of the Atlanta Braves
2018:
Edward H. Bastian, CEO of Delta Air Lines
W. Paul Bowers, Retired Chairman, President, and CEO of Georgia Power
2017:
F. Duane Ackerman, Retired Chairman of the Board and CEO of BellSouth
A.D. "Pete" Correll, Retired CEO of Georgia-Pacific
2016:
James H. Blanchard, Retired Chairman of the Board and CEO of Synovus
Muhtar Kent, Chairman of the Board and CEO of The Coca-Cola Company
2015:
Alana Smith Shepherd, Co-founder of the Shepherd Center
Paula S. Wallace, President and Co-founder of the Savannah College of Art and Design
2014:
Arthur M. Blank, Co-founder of The Home Depot, Owner of the Atlanta Falcons
William Porter "Billy" Payne, Former Chairman of the Augusta National Golf Club, Chairman of Centennial Holding Company, LLC
2013:
Truett Cathy, Founder of Chick-fil-A
Herman Russell, Founder of H.J. Russell & Company
2012:
Tom Cousins, Founder of Cousins Properties, Inc., Founder of Purpose Built Communities
Andrew Young, Former UN Ambassador and Mayor of Atlanta
2011:
Vincent J. Dooley, Legendary UGA Football Coach
The Honorable Sam Nunn, Former U.S. Senator
2010:
Henry "Hank" Aaron, Baseball Legend
Robert Edward "Ted" Turner, Founder of CNN, Chairman of Turner Enterprises, Inc.
2009:
Bernard Marcus, Co-founder of The Home Depot
Marguerite Neel Williams (honored posthumously), Community Volunteer and Philanthropist
---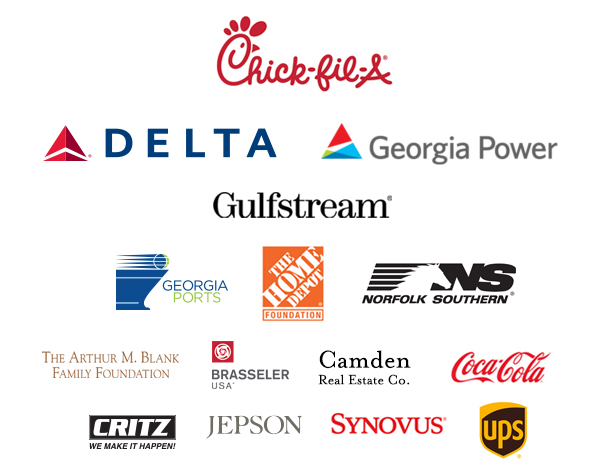 View the 2022 Georgia History Festival sponsors.