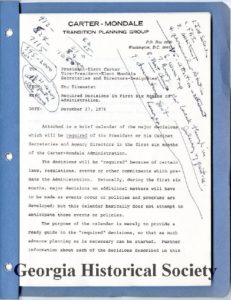 The 2018-2019 Georgia History Festival theme is "The U.S. Constitution: Ensuring Liberty and Justice for All," and this month, we'll share materials from the GHS collection relating to the executive branch.
Carter-Mondale campaign transition plan, 1976 MS 2305 Griffin B. Bell papers
The time period between an election and the moment a president is sworn in to office is known as a transition period. It is an important time for an administration and often sets the momentum for an incoming President. The plan shown here was made for President Carter's transition and shows numerous issues that needed to be addressed in the first six months of his presidency. It also indicates the importance of this time to his staff. Griffin Bell made notes on issues he thought must be dealt with in this transition period including judicial selections and appointments the to the Federal Bureau of Investigation.