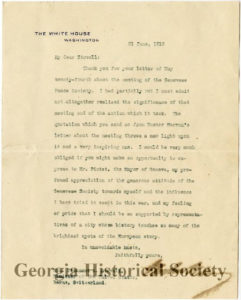 The 2018-2019 Georgia History Festival theme is "The U.S. Constitution: Ensuring Liberty and Justice for All," and this month, we'll share materials from the GHS collection relating to the executive branch.
Letter from Woodrow Wilson to Pleasant Alexander Stovall, 1918 MS 1021 Pleasant Alexander Stovall papers
President Woodrow Wilson appointed Pleasant Alexander Stovall as minister to Switzerland in 1913. Stovall served in the posting until 1920. Toward the end of WWI President Wilson issued a declaration known as the Fourteen Points. Wilson's plan was aimed at the establishing lasting World Peace following the war. Stovall was a firm believer in this plan and as minister to Switzerland did his part in advocating for Wilsonian ideals.