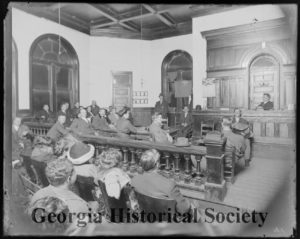 The 2018-2019 Georgia History Festival theme focuses on the U.S. Constitution and this month we are sharing materials from the GHS collection relating to the judicial branch.
Douglas County Courtroom interior – glass plate negative (MS 2632)
Georgia women began to vote in 1922 after the Nineteenth Amendment, known as the Susan B. Anthony Amendment, became federal law on August 26, 1920, yet they still were not granted the right to serve on juries. In 1947 the Georgia Bar Association supported the admission of women to the jury box. After several bills made their way through the state house and senate, a bill allowing women to serve on juries in Georgia, finally passed the senate 30-8 on December 9, 1953. Governor Eugene Talmadge signed the legislation on December 21.