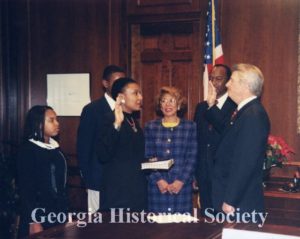 The 2018-2019 Georgia History Festival theme focuses on the U.S. Constitution and this month we are sharing materials from the GHS collection relating to the judicial branch.
The swearing in of Leah Ward Sears as Chief Justice of Supreme Court of Georgia (MS 2427)
In 1988, at the age of thirty-two, Leah Ward Sears became a Fulton County Superior Court judge. Not only was she the youngest person to ever serve as a Superior Court judge in the state of Georgia, she is also the first African-American woman to hold such a position in the state. Sears was appointed to serve on Georgia's Supreme Court in 1992, again making her the youngest person and first woman to ever serve on that court. Sears served as Chief Justice of the Supreme Court of Georgia from 2005 until 2009.