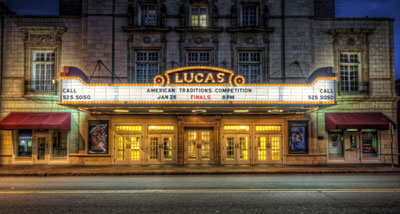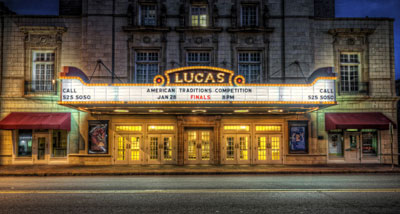 Built by Arthur Lucas, a prominent figure in the theatre industry throughout the Southeast, the Lucas Theatre opened its doors on December 26, 1921, with a screening of Rudolph Valentino's Camille. An ornate movie palace, the theatre served as a favorite venue for films, travelling vaudeville acts, and big band performances for several decades. As with many theatres of its day, the Lucas Theatre saw a decline in ticket sales as television gained popularity and the suburbs drew people away from the downtown area. In 1976, after a deserted screening of The Exorcist, the Lucas closed its doors.
After a handful of short-lived conversions of the venue into a comedy club and restaurants throughout the 1970s, the building was slated for demolition. In 1986, the owners made plans to repurpose the once-thriving Lucas Theatre into a parking garage.
This news motivated a group of Savannah citizens to found the nonprofit organization the Lucas Theatre for the Arts. The group pooled their resources, purchased the building, and began what would be a restoration that spanned nearly 14 years.
The Lucas Theatre reopened on December 1, 2000, with three screenings of Gone With the Wind. In 2003, the Savannah College of Art and Design recognized the theatre as an important cultural asset to the community and partnered with the theater to help assure the Lucas's future. The Lucas serves the people of Savannah as a venue that allows for a wide range of community uses in addition to top-notch local and international entertainment.
Visit the Lucas Theatres' website to plan your visit.
We hope you will join us for Super Museum Sunday on February 7, 2016, featuring free admission to many museums and other cultural sites throughout Georgia. Visit our Super Museum Sunday page for more information.
---
Above photos: Courtesy of the Lucas Theatre