Join us for Super Museum Sunday on February 7, 2016, featuring free admission to many museums and other cultural sites throughout Georgia!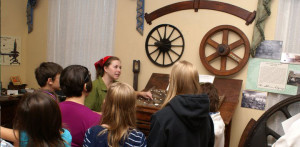 The Marietta Museum of History is dedicated to preserving the history of Marietta and Cobb County. The Museum is located in the historic Kennesaw House Building, which was built in 1845 as a cotton warehouse and later became the Fletcher House Hotel. The hotel even served as the final meeting spot for Andrew's raiders before they began the infamous Great Locomotive Chase which led to the first recipients of the Medal of Honor. It was also a makeshift hospital during the Civil War, and because of this has earned a ghostly reputation.
The Museum contains the largest collection of artifacts relating to Marietta and Cobb County. Galleries and exhibits cover topics such as military history, home life throughout the decades, and technology from our past. Current exhibits include Neath the Southern Moon: Marietta During the World War I Era and BOOM! Toys of the Baby Boomer Generation. The Aviation Wing, located separately 2 miles from the Kennesaw House, is an outdoor park with 10 aircraft on display that tell of the important role of aviation in the history of the region.
Visit the Marietta Museum of History on Super Museum Sunday for an educational, enlightening, and engaging look at Marietta's past. See the Museum's website for more information.
---
Above photos: Courtesy of the Marietta Museum of History