Join the Georgia Historical Society on Sunday, February 5, for Super Museum Sunday! Each week during the Georgia History Festival, GHS will shine a light on one participating Super Museum Sunday site in anticipation for this popular annual event.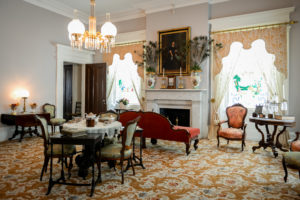 This week we highlight the Old Governor's Mansion, located in Milledgeville on Georgia College and State University's (GCSU) campus. Designed by Charles Cluskey and completed in 1839, the Old Governor's Mansion served as the home to eight of Georgia's governors from 1839 through 1868. The Mansion housed the leaders of Georgia from the antebellum period through Reconstruction until the capital was moved to Atlanta. In 1890, the building was given to what is now known as GCSU. Work to restore the Mansion to its 1851 appearance began in 2001 and was completed in 2004. Today, the Mansion serves as a house museum illustrating the Mansion's history and the governors who called it home.
Visit the Old Governor's Mansion and other participating Milledgeville sites free of charge on February 5, 2017 as part of your Super Museum Sunday experience.
Images courtesy of Georgia's Old Governor's Mansion, Georgia College.