Join the Georgia Historical Society as over 90 cultural and historical sites open their doors free of charge on Sunday, February 11, 2018, for the Georgia History Festival's Super Museum Sunday (SMS)! Each week leading up to SMS, we will highlight participating sites in anticipation of this annual tradition. For a full list of sites, please visit the SMS event page.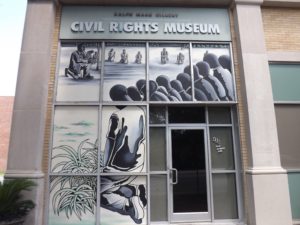 Named for First African Baptist Church pastor and Savannah Civil Rights Movement leader, Ralph Mark Gilbert, the Ralph Mark Gilbert Civil Rights Museum explores the struggle for human and civil rights in Savannah. Visitors learn about the history of African Americans in Savannah and Georgia, and how this history shaped our present. Experience a lunch counter protest through an interactive display and explore a segregation-era classroom, as well as photo exhibits. Make the Ralph Mark Gilbert Civil Rights Museum a stop on your Super Museum Sunday tour!
Check back in January for a full list of Super Museum Sunday sites!
We'd love to see your pictures! If posting Super Museum Sunday related pictures on social media, please use the hashtag #GHF2018. Feel free to tag GHS on the following platforms:
Images courtesy of Ralph Mark Gilbert Civil Rights Museum