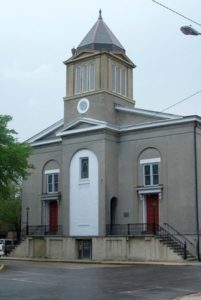 Join the Georgia Historical Society as over 90 cultural and historical sites open their doors free of charge on Sunday, February 11, 2018, for the Georgia History Festival's Super Museum Sunday (SMS)! Each week leading up to SMS, we will highlight participating sites in anticipation of this annual tradition. For a full list of sites, please visit the SMS event page.
This week, the Georgia Historical Society shines a light on First African Baptist Church, located off Franklin Square, in downtown Savannah. With the congregation's history tracing back to 1773, the current building was built in 1859. Unique features include the original Savannah Grey brick made by church members, original pews located in the balcony, and beautiful stained glass. Visit First African Baptist Church free of charge on Super Museum Sunday!
Check back in January for a full list of Super Museum Sunday sites!
We'd love to see your pictures! If posting Super Museum Sunday related pictures on social media, please use the hashtag #GHF2018. Feel free to tag GHS on the following platforms: