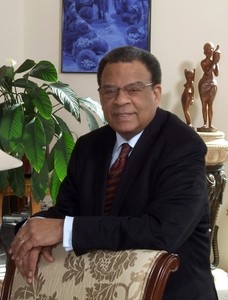 Ambassador Andrew Young's humanitarian efforts and influence have spanned the globe.  From his beginnings as an ordained minister and top aide to Dr. Martin Luther King Jr. during the civil rights movement to his current position as founding principal and chair of GoodWorks International, an organization that embraces his long-held mission of facilitating economic development in the Caribbean and Africa, Ambassador Young has dedicated himself to improving the lives of all people, particularly those in Africa and the Diaspora.
His "good works" have taken him to more than 150 countries, including 48 of 53 countries in Africa.  Through his leadership, countries throughout the world have created a successful model that combines religion, education, democracy and free enterprise in ways that support the public good.
Ambassador Young has received honorary degrees from more than 60 institutions, including his alma mater, Howard University, Swarthmore College, Duke University, Emory University, Clark Atlanta University, the University of Georgia and Morehouse College, which named its Center for International Affairs in his honor. He has also received honorary degrees from international educational institutions including the University of Pretoria South Africa and the University of Maiduguri Nigeria. Georgia State University's School of Policy Studies, which carries his name, is one of the best policy schools in the United States.
Ambassador Young served in the United States Congress and as United States Ambassador to the United Nations during the Carter Administration. In 1996, he was awarded the Olympic Order, the highest award of the Olympic Movement, for his work as International Vice President for Law Engineering and Chair of the Centennial Olympic Games hosted in Atlanta.
Ambassador Young serves or has served on numerous corporate boards of directors and advisory boards including the Southern African Enterprise Development Fund,  the Leon H. Sullivan Foundation, The Martin Luther King Jr Center for Nonviolent Social Change, Diversapack, Barrick Gold, United Nations, AMC and Atlanta Falcons.
While mayor of the City of Atlanta for two terms, Young helped attract 1100 new businesses and 70 billion dollars in private investments, and created one million new jobs. His leadership helped the City to earn the international reputation it holds today. The author of two books, A Way Out of No Way and An Easy Burden, and co-author of, Walk in My Shoes. Ambassador Young recently received the Emmy for Lifetime Achievement.  Young continues to call Atlanta home where he lives with his wife, Carolyn McClain Young. He is the father of three daughters and one son and the grandfather of six.
---