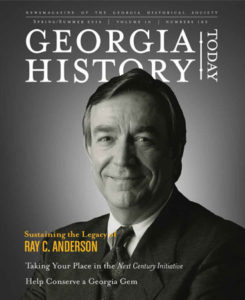 In keeping with the Georgia History Festival's theme, "A State of Innovation," this month GHS highlights Georgia's business history and the new Business History Initiative, with particular emphasis on Ray Christie Anderson, visionary business leader and founder of Interface, Inc., the world's largest manufacturer of commercial carpet tile.
Ray Anderson was not only an industrialist working to manufacture modular carpet, but he was also an environmentalist who strove to create a sustainable product. In 1994, Anderson challenged his 21-year-old company to rethink its business model with the goal of manufacturing 100% sustainable products. As part of his Mission Zero initiative, the company has reduced its environmental footprint by 31% since 2008 and aims to achieve a zero footprint in the near future. Anderson revolutionized the carpet industry by making production safer for the environment while driving production costs down, increasing the quality of the products, and still making a profit.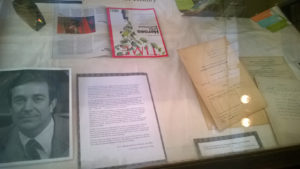 This month's Research Center exhibit features GHS's Ray C. Anderson Papers (MS 2603). The exhibit includes recently-processed items from this vast collection, focusing on his work in environmentalism and sustainability in the carpet industry. Photographs, correspondence, reports, speeches, and pamphlets are just some of the material that makeup this important collection. Together, these materials provide a fascinating look at the personal and professional journey of both Ray Anderson and the innovative company he built.
Throughout the month of January, GHS is visiting coastal-area schools to bring engaging presentations using primary sources from the GHS collection. Slots are still available for January 19, 20, and 27. Please visit http://georgiahistoryfestival.org/educators/ for information on how to register.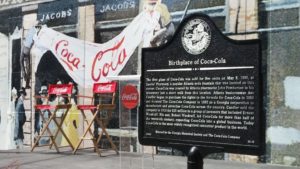 Please check out our Facebook page for #MarkerMonday posts! This month is focusing on businesses in Georgia, such as Delta Air Lines, Georgia Power, Waffle House, and The Coca-Cola Company.
Finally, remember to join us next month, on Sunday, February 5, 2017, for a time-honored Georgia History Festival tradition, Super Museum Sunday (SMS)! Museums across Georgia offer free admission as part of the much-anticipated event. In preparation for this year's SMS, GHS will highlight many of the participating sites in the weeks leading up to Super Museum Sunday with our SMS Spotlight posts. Be sure to check the Georgia History Festival blog closer to the event to grab your map of participating sites!