Each week during the 2016-2017 Georgia History Festival, GHS will shine a light on one participating Super Museum Sunday site. This popular annual event, held on the Sunday (February 5) before Georgia Day (February 12), allows visitors and residents alike to experience our state's rich history and cultural life.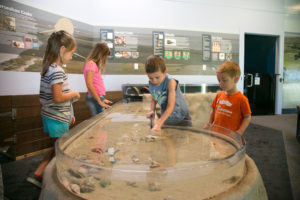 This week's SMS Spotlight highlights the UGA Marine Education Center and Aquarium. Located on Skidaway Island, minutes away from downtown Savannah, the UGA Aquarium is part of the UGA Marine Extension and Georgia Sea Grant. The center develops public understanding and appreciation of coastal marine ecosystems, fostering respect for the beauty and complexity of these environments.
The UGA Aquarium houses a variety of coastal fish, invertebrates, and reptiles, most of which are native to the Georgia coast. Exhibit tanks feature loggerhead sea turtles, stingrays, and diamondback terrapins. Touch tanks allow visitors hands-on interactions with whelks, horseshoe crabs, and more. Make sure not to miss the display of Native American artifacts and fossils dredged from the Savannah River. Guests to the Center will also find nature trails, observation platforms, and shaded picnic areas along the banks of the Skidaway River.
Make the UGA Aquarium a part of your Super Museum Sunday experience by visiting for free of charge on Sunday, February 5.
Images courtesy of the UGA Marine Education Center and Aquarium.