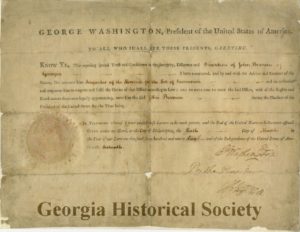 The 2018-2019 Georgia History Festival theme focuses on the U.S. Constitution and this month we are sharing materials from the GHS collection relating to the executive branch.
John Berrien commission as Inspector for Revenue of the Port of Savannah, 1792 MS 68
The newly formed United States had many hurdles in its early stages; one was paying for its hard-fought war of independence. Appointing Inspectors for Revenue was one way to begin adding funds to the Federal Government's coffers. This commission is signed by President George Washington and Secretary of State Thomas Jefferson.