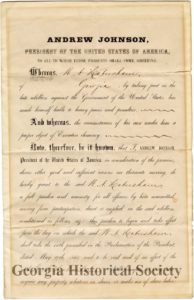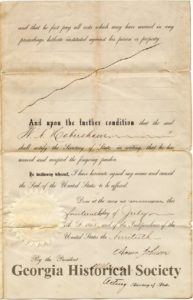 The 2018-2019 Georgia History Festival theme focuses on the U.S. Constitution and this month we are sharing materials from the GHS collection relating to the executive branch.
William Neyle Habersham pardon, 1865 MS 2680
After the Civil War and the assassination of President Lincoln, newly installed President Andrew Johnson had to contend with a divided and fragile Union. Since his election as Vice-President, Johnson advocated for tough punishment of the Southern States but also advocated for a quick and speedy reconciliation.  Under Johnson's plan for Reconstruction there were fourteen exemptions to general clemency. Since William N. Habersham's estate exceeded $20,000 he was required to apply for a pardon. As part of his pardon he had to take a loyalty oath to the United States.