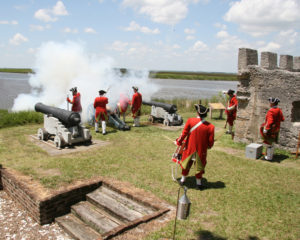 This week we shine a light on two St. Simons Island sites, Fort Frederica National Monument and the Bloody Marsh Unit. Fort Frederica National Monument is an archaeological site of the National Park Service. Fort Frederica and its town were established in 1736 by General James Edward Oglethorpe to protect the British colony of Georgia's borders, especially from Spain's neighboring colony in Florida. In 1742, troops ensured that Georgia stayed a British colony through a series of battles with the Spanish. At the Battle of Bloody Marsh, the 42nd Regiment of Foot and the Highlanders from Darien fought against the Spanish. In addition to being able to walk the ground of the battle, visitors to the Bloody Marsh site can view a memorial to the British troops who fought here during the battle on July 7, 1742. The Battle of Bloody Marsh helped bring an end to Spanish claims on Georgia territory. With the Spanish no longer a threat to the colony, Fort Frederica and the town were essentially abandoned. Today, visitors at Fort Frederica can experience the archaeological artifacts and features from the site. Make sure to view Fort Frederica's site film, History Uncovered, for a look into the site's history.
Visit Fort Frederica National Monument and the Bloody Marsh Unit on February 5, 2017 free of charge as part of your Super Museum Sunday experience. View the Super Museum Sunday map to plan your visit to other participating sites in the St. Simons Island and coastal Georgia area!
Images courtesy of Fort Frederica National Monument.