Join the Georgia Historical Society on Sunday, February 5, for the Georgia History Festival's Super Museum Sunday! In the days leading up to the event, GHS will shine a light on participating Super Museum Sunday sites in anticipation for this popular annual event.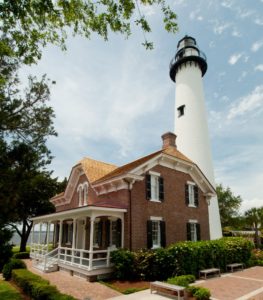 Today's Super Museum Sunday Spotlight highlights the St. Simons Lighthouse Museum. The museum offers tours of the lighthouse keeper's house and invites you to climb the 129 stairs to the top of the 104-foot tower. The second lighthouse built on St. Simons Island houses a third-order Fresnel lens and is still in operation nightly. Operated by the Coastal Georgia Historical Society, the St. Simons Lighthouse Museum opens its doors to the public, free of charge, from 1:00 p.m. – 5:00 p.m., on Super Museum Sunday with the last climb taking place at 4:30 p.m.
For more information about Super Museum Sunday and other coastal Georgia participating sites, please visit the Super Museum Sunday page.
We'd love to see your pictures! If posting Super Museum Sunday related pictures on social media, please use the hashtag #GHF2017. Feel free to tag GHS on the following platforms:
Images courtesy of the Coastal Georgia Historical Society.