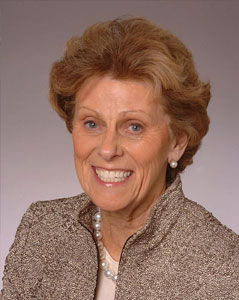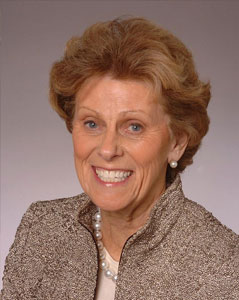 Alana Shepherd and her family co-founded Shepherd Center in Atlanta in 1975 to treat spinal cord injury. Through the years, Shepherd Center has grown from a six-bed unit to a world-renowned, 152-bed rehabilitation hospital specializing in medical treatment, research and rehabilitation for people with spinal cord injury, brain injury and other neurological conditions.
Alana, along with her husband Harold and their son James, founded Shepherd Center after James sustained a paralyzing spinal cord injury in 1973. Frustrated by the lack of state-of-the-art rehabilitation care in the southeastern United States, the family galvanized support among the Atlanta community to open a specialty facility. Alana also recognized early on that she had to help change the community to which patients would return so these individuals would be accepted and could, once again, assume their place in society.
Her advocacy for accessibility resulted in the addition of lifts to Atlanta's MARTA bus system and in making Hartsfield-Jackson Atlanta International Airport one of the country's most accessible airports.
Last year, Shepherd Center admitted 992 people to its inpatient programs. In addition, Shepherd saw more than 7,600 people on an outpatient basis.
Through the years, Alana has been Shepherd Center's chief fundraiser and prime mover-volunteer, a woman known for her upbeat honesty, business savvy and relentless drive. She continues to serve as secretary of the board of directors at Shepherd Center.
Alana championed the fight, despite opposition, to bring the International Paralympic Games to Atlanta in 1996. She changed Olympic/Paralympic history when her efforts led the International Olympic Committee to decree that all cities seeking to be the site of future Olympic Games must include plans and proposed financing for the Paralympics, as well access to the same sites and facilities.
Alana, Harold and James Shepherd were awarded honorary doctorate of humane letters degrees in December 2011 by the University of Georgia, in conjunction with the Board of Regents of the University System of Georgia, in recognition of their contributions to healthcare and the state of Georgia.
In 2014, the Atlanta Business Chronicle named Alana one of the most influential people in Atlanta. Among her many awards, she received the 2012 J.W. Fanning Award from Leadership Georgia, the Georgia Hospital Association's 2009 Lifetime Heroic Achievement Award for her lifetime of service to enhancing operations and patient care at Shepherd Center. She also received Atlanta Gas Light's and WSB Radio's 2005 Shining Light Award. Alana was included in the Georgia Trend list of Notable Georgians for 2009 and inducted into the National Spinal Cord Injury Association's Spinal Cord Injury Hall of Fame in 2008.
Her numerous civic involvements have included serving as former vice president and current member of the Rotary Club of Atlanta, member of the CDC Foundation's Atlanta Advocacy Council, member of the Metro Atlanta Chamber of Commerce, the Greater Grady Task Force and secretary of the Board of Directors for the 1996 Atlanta Paralympic Games.
In 1989, Alana was the first woman elected to be a member of the Buckhead Coalition and, in 2003, the first woman elected as chairman of the Coalition. She was also the first woman elected to Board of Directors of Genuine Parts and the Board of Directors of Wachovia Bank of Georgia.